The Agilent 4200 TapeStation system offers automated sample processing for quick and reliable sample quality control within any Next Generation Sequencing (NGS), microarray (aCGH) or quantitative PCR (qPCR) workflow.

- Automated - Unattended walk away operation with fully automated sample processing for up to 96 samples.
- Scalable - Individual channels facilitate variable throughput from 1 - 96 samples at a constant cost.
- Flexible - Ready-to-use ScreenTape technology enable easy switching between DNA and RNA assays. Sample can be provided in either 16-tube strips or 96 well plates.
- Fast - Simplify your workflow without any system set up procedures and obtain reliable results in as little as 1-2 minutes per sample, even for 96 samples.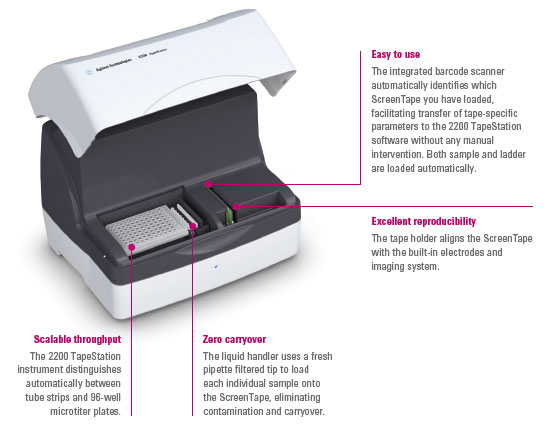 For more information click here